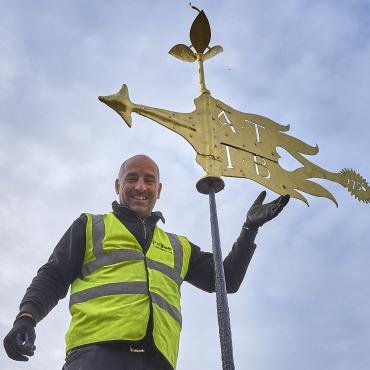 28 October 2019
The first weathervane on the Grade I Listed church tower was placed on top in 1620 and after being lost and found is now on the Harvey's Brewery building, a little way down Cliffe High Street.
The current weathervane on the church tower today has a date of 1756 in it sunburst tail and cost £3 5s plus 4s 6d for putting it on the church tower. Prior to it's restoration the weathervane had lost all of it's gilding and elements of the copper vane were missing and have now been put back.
The internal and external conservation works are currently ongoing, and project managed by church architect Andrew Goodwin of Mackellar Schwerdt with the main contractor Profurb Construction Ltd installing the weathervane in the autumn of 2019.