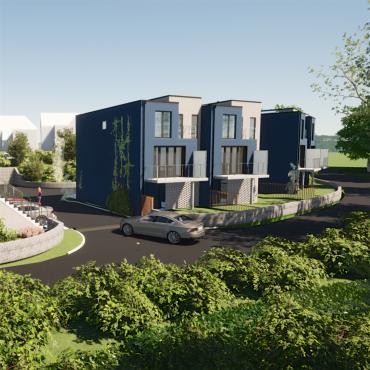 15 June 2021
Planning permission has been granted for a scheme of nine new residential units in Seaford, East Sussex.
The planning application proposed a residential development of 9 dwellings, comprising 9 x 3 bed units, with a development approach that successfully addressed the surface water flooding concerns that had arisen with the sites past planning history. The living accommodation is configured over two floors above a secure, but sacrificial flood resilient, under croft area.
The built form is split into two separate blocks which are themselves then broken down with a strong repetitive form, with the facades stepped, using a clear step back in conjunction with a distinct separation of materials. This serves to breakup the overall volume and reduce the mass of the proposed scheme, resulting in a clean and refined modern aesthetic.
The contemporary approach reflects the innovative and non-traditional configuration of the dwellings, as they respond to and address the sites surface water flooding issues.